Does E631 Use Extracted Pig's Fat or Sardine Oil?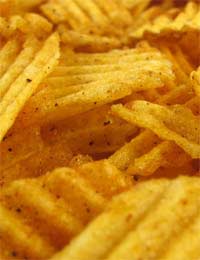 Q.
Can you tell me about the source of flavour additive E631 which is used in some potato chips/crisps. I cannot tell from anything I've read whether it comes from pig's fat, another animal - or indeed sardine oil? It's important to many people to avoid products extracted from pigs.
(M.K, 2 July 2009)

A.
Thanks for sending in your question. The E number known as E631 (or sodium inosinate) is an additive that is used in many products to act as a flavour enhancer and make foods taste good. As well as enhancing other flavours, it's used frequently in products such as potato crisps as it also helps to reduce the amount of salt needed (and reducing salt intake has become quite a big health concern in recent years, with manufacturers vying to get their levels of salt in products down).
Sodium inosinate comes from inosinic acid, an acid that is naturally found in a variety of animals, such as pigs or fish, such as sardines. In some cases it can also be produced from bacterially fermenting some sugars.
As far as commercial use goes, most manufacturers do source their E631 from animals and fish, whilst a few may use the fermentation method. The tricky bit is if you want to specifically avoid E631 that comes from pork, as most products will not say on their ingredients list exactly where it comes from.
You could try writing to manufacturers to ask exactly where it comes from. There's no guarantee that you'll get a definitive answer, but it's always worth a try and, you never know, some might be receptive and willing to give you the facts. However, if it's an issue that really concerns you and you don't want to find yourself unknowingly consuming food with E631 sourced from pigs, probably the best move is to avoid the products completely.
It's hard work sometimes trying to avoid these pesky E numbers, especially with so many hidden in the foods and drinks we enjoy, but if you really do need or want to avoid certain numbers, scouring the ingredients lists before you buy products is the best way of ensuring you're not getting more than you bargained for.
We realise the importance for many people of avoiding products extracted from pigs, which is why we've published articles such as this one on - E numbers not suitable for a Halal diet - if you're looking to avoid other E numbers with links to pork products, then you may find this to be a useful read.
You might also like...
I think any ingredients containing pig fats should be labelled with the prefix "PF" (Meaning Pig Fat) rather than an "E". This way the product manufacturers would be considered as honest and the Byers can make an informed choice when buying the products.
Kamila razvi
- 12-Oct-19 @ 1:12 PM
These is more dengeras please stop it...quick
Santhu
- 28-Sep-19 @ 3:23 PM
Disodium inosinate is generally produced from meat, including fish and pigs. Though it is normally a non-vegetarian product, it also may be produced from tapioca starch without any animal products involved in the production. The producer can provide information on the origin and it is in some cases labeled as "vegetarian" in ingredients lists when produced from plant sources.[4][5]
Sunny
- 18-Jun-19 @ 11:02 AM
I think any ingredients containing pig fats should be labelled with the prefix "PF" (Meaning Pig Fat) rather than an "E". This way the product manufacturers would be considered as honest and the Byers can make an informed choice when buying the products.
Shahjad
- 13-Jun-19 @ 11:03 AM
These E codes are available as an added flavour in different lays products such as E631 & E160c found in lays wavy also E635 found in lays yogurt and herbs flavour please avoid to eat these products and before consuming these type of products first see ingredients and verify if there is not haram ingredient in it
Nomi
- 5-Jun-19 @ 10:05 AM
I think it's in doubt that E product's should not be used in any condition unless we comes to know that this is halal.We all Muslim's should byecot such product.Thanks
zebi
- 7-Apr-19 @ 6:57 PM
As a muslim we should not consume these products because they are doubtous .Sources should be properly labelled and govt. should compell all the manufacturers to do so.
Isba
- 2-Apr-19 @ 3:40 PM
Is fair n lovely haram or halal pleaseeeeee tell me? :((
Jimmy
- 31-Mar-19 @ 6:10 PM
It's Right Government take Seriously Action Against some company .who sale product non Halal .with the Code . E631 .Been a Muslim we Also stop buying these stuff. From super markets
Farry
- 29-Mar-19 @ 6:39 PM
Thank you everyone for your comments. I think any ingredients containing pig fats should be labelled with the prefix "PF" (Meaning Pig Fat) rather than an "E". This way the product manufacturers would be considered as honest and the Byers can make an informed choice when buying the products.
Klab
- 26-Feb-19 @ 9:57 PM
I request to government pls band this item
Yousuf
- 14-Feb-19 @ 6:03 AM
Certainly we can avoid some products that we come to know containing e631.unknowingly we still r not aware of some products containing e631 we consume.so it should be the responsibility of govt. To restrict such products that r against to certain communities or religions like our islam.
Musa
- 28-Jan-19 @ 4:18 PM
Why wait for govt to ban ??? Ban in your homes it will be automatically disappear from market whenno demand no supply simple rule.
Abc
- 24-Jan-19 @ 3:16 AM
If this true so plz don't use all Muslims because its Haram in islam.
Asim
- 18-Jan-19 @ 6:12 AM
Now it's not a new thing most of the mobileusers have come to know about this kinda product after all they don't care if only Muslims don't purchase these products so around the world it would be decreasing value of the growth . I don't eat any kinda fast food.
Heart??hacker
- 17-Jan-19 @ 3:07 PM
Intha product galannu bharatha sarakara nishedisabeku
Peer
- 13-Jan-19 @ 1:46 PM
All products contains pig oriented food, Should clearly show E631 In Bracket) Pig fat content.Every one would read this and buy.
PVPatel
- 12-Jan-19 @ 2:55 PM
If there are various animals (such as fish pig etc) used for making e631,then why for pig fat no other number is given?
Afrin
- 2-Jan-19 @ 3:45 PM
Plzquick band thisall productunder governments activity ,
Fauzia
- 29-Dec-18 @ 2:11 PM
Our government should ban this activity .It is wrong.
aakash
- 29-Dec-18 @ 9:59 AM
Food products are going harmless for human beings mostly muslims are suffering from it each n every product they use this kind of ingriedients some people know n some dont knw how we vl come to knw which is good or bad while buying we cant read each n evry product so its humble request stop using this type of nonsense things dont make money save people lifes
Dil
- 24-Dec-18 @ 6:03 PM
As a human being is everyone responsibility take action against that stuff in every religion pork not allowed to eat how can companies provide food to the people which got pork fat in it that's not allowed we not happy with it we have to come together and take a strike against all of that product
Ash
- 23-Dec-18 @ 10:50 PM
Yes,u r right bro.Every religion should struggle against it.We all should join our hands together & point out the wrong things that r happening.Why muslims have to sacrifice by avoiding such tasty foods,not only foods but E631 is also used in making soaps,capsules also..We all should cooperate for each other and protest against it,so that E631 should not use anymore by MNCs in manufacturing chips,chocolates,soaps etc
Moon
- 16-Dec-18 @ 9:30 PM
capitalist system has ruined every thing, and has made the humans a very shallow thought specy rather fully controlled robote type machines. What we can do perhaps nothing. Except those micro % who really understand the fraud of capitalism
Ahsan
- 14-Dec-18 @ 5:37 PM
Yes we have concerns about the doubt full eatable as Muslims. When it is known by all that pig is strictly not halal in Islam, then how can its item reached in a Islamic Republic country
Rehana Rehman
- 12-Dec-18 @ 1:21 PM
We should have to take strict action and don't eat these things if we shall not buy these things this may cause a devastation of companies.
haji
- 10-Dec-18 @ 3:29 PM
We are believeing they are deceiving. Coding like E631 is a criminal activity there should be clearly written on products what ingredients are used in. we must know what I am purchasing,after all we are paying for that. So stop purchasing products having like E631 coding from today till clearance.
Annu
- 10-Dec-18 @ 2:29 AM
It is sad that the multinational companies are playing with people using ingredients like E631 in popular foods. It is certainly drawn from pig fat as it is easiest way to get it in western countries. So sad, stop E631 immediately.
Baliyavi
- 9-Dec-18 @ 10:58 AM
Thanks for sharing this highly informative info, our government have no time to investigate these small businesses they are taking benefits. We should aware and care about these kinds of products. Thanks again for sharing.
Iftikhar
- 9-Dec-18 @ 4:29 AM
E631 is a Pig Fat Plz Don't Take Those Products On Which You See E ingrediants Its Very Harmfull For Your Health.
Usama
- 9-Dec-18 @ 4:10 AM