Does E631 Use Extracted Pig's Fat or Sardine Oil?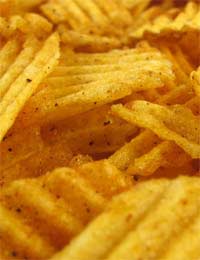 Q.
Can you tell me about the source of flavour additive E631 which is used in some potato chips/crisps. I cannot tell from anything I've read whether it comes from pig's fat, another animal - or indeed sardine oil? It's important to many people to avoid products extracted from pigs.
(M.K, 2 July 2009)

A.
Thanks for sending in your question. The E number known as E631 (or sodium inosinate) is an additive that is used in many products to act as a flavour enhancer and make foods taste good. As well as enhancing other flavours, it's used frequently in products such as potato crisps as it also helps to reduce the amount of salt needed (and reducing salt intake has become quite a big health concern in recent years, with manufacturers vying to get their levels of salt in products down).
Sodium inosinate comes from inosinic acid, an acid that is naturally found in a variety of animals, such as pigs or fish, such as sardines. In some cases it can also be produced from bacterially fermenting some sugars.
As far as commercial use goes, most manufacturers do source their E631 from animals and fish, whilst a few may use the fermentation method. The tricky bit is if you want to specifically avoid E631 that comes from pork, as most products will not say on their ingredients list exactly where it comes from.
You could try writing to manufacturers to ask exactly where it comes from. There's no guarantee that you'll get a definitive answer, but it's always worth a try and, you never know, some might be receptive and willing to give you the facts. However, if it's an issue that really concerns you and you don't want to find yourself unknowingly consuming food with E631 sourced from pigs, probably the best move is to avoid the products completely.
It's hard work sometimes trying to avoid these pesky E numbers, especially with so many hidden in the foods and drinks we enjoy, but if you really do need or want to avoid certain numbers, scouring the ingredients lists before you buy products is the best way of ensuring you're not getting more than you bargained for.
We realise the importance for many people of avoiding products extracted from pigs, which is why we've published articles such as this one on - E numbers not suitable for a Halal diet - if you're looking to avoid other E numbers with links to pork products, then you may find this to be a useful read.
You might also like...
Sir I want to know in which which products use pigs fats as well as pork.
Luqmaan
- 14-Jul-17 @ 6:41 AM
Sir I want to know in which which products use pigs fats as well as pork.
irfan
- 2-Jun-17 @ 4:50 PM
It's consumption is dangerous or useful for humans
Giri
- 11-May-17 @ 5:17 PM
And I believed that I am a vegetarian. .????m done with this. No Maggie ,pizza no junk foods
Rohit kumar
- 18-Apr-17 @ 7:31 AM
Very bad of this item chips company will be too much this tipe of pigs fat and oil this is not correct. Please do something's save the people
Shak
- 18-Apr-17 @ 1:29 AM
We belong to Muslim families so we all should not use products made with E family ingredients. Govt. Of Pakistan should also take a strict action on this issu against the culprits. Nadeem ASSADI Advocate. Lahore Pakistan.
ASSADI
- 11-Apr-17 @ 5:00 AM
And I believed that I am a vegetarian. ?? M done with this. No Maggie, No chips, No pizza, No to junk food.
Sunita Pradhan
- 13-Feb-17 @ 12:24 PM
OYE hoYE chips also use this taste enhancer
gmMalik
- 6-Feb-17 @ 4:16 PM
Kurkuray company is also using flavour enhancer e631 that must b ban in pakistan
Manoo
- 29-Jan-17 @ 12:19 PM
E products should be banned in Muslim countries especially in pakistan
Shahid
- 7-Jan-17 @ 2:56 PM
All Muslim scholars should pay their role to ban e631 especially for Muslims.
emi
- 17-Dec-16 @ 4:45 PM
Please share with us as much as you can so that we should not go astray. Stop consume products with E631.
HassyAssy
- 6-Oct-16 @ 4:00 PM
My all Muslim brothers sisters not used e 631 chips this one Haram have I'm information
Riyaj
- 9-Sep-16 @ 6:47 AM
We tHe mUsLims sHouLd StOp uSiNg tHe E series producTs.......its NOT HALAL...
shd
- 21-Jul-16 @ 5:09 PM
It should be a binding of all countries particularly muslim countries to ban these items or print warning on the products that, "NOT HALAL FOR MUSLIMS".
Sikander
- 1-Jul-16 @ 12:10 PM
All muslims Please try to understand that we are muslim so please never use E serious products.
kasho
- 28-Apr-16 @ 7:02 AM
Please avoid using these types of products as we are muslims so never use E series foods
Feel
- 19-Apr-16 @ 3:38 PM
This article is very helpful. Thanks
FAS
- 16-Apr-16 @ 7:18 AM
It is duty of food contrler authrity instruct People dont use E series
Bugvih
- 7-Apr-16 @ 5:52 PM
We muslims we should avoid E series products
Idi
- 14-Dec-15 @ 1:46 PM
I need to know that inculine for diabetic patients which thier taking to control their sugar level, Is haram or halaal? this inculin mostly made form pork bones so it couldn't be halaal so why doctors giving prescription for inculin? please reply me very soon
fadrun
- 4-Jan-13 @ 8:52 AM
So do most e-numbers come from natural sources??
E-no.frantic
- 28-Nov-12 @ 7:31 PM
government should take strict action against lays company and all those companies who are using E series products.
SUJI
- 23-Aug-12 @ 9:40 AM