E100 - E199 Colours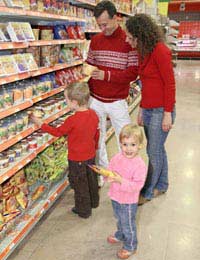 There are a wide range of colours used in products today making them look more appealing and tempting to consumers. Here we take a look at all the colours that make up the E number colour category.
The colours used in foods and drinks make up the E numbers from 100 to 199. This makes it a bit easier for you, as a consumer, to identify when an E number is a colour or not, as it will always be from E100-199. If it doesn't begin with a 1, then it's not a colour.
As more colours are added, you'll find that some numbers have extra a, b, c, d, e or f prefixes to accommodate the new item. For example, E150 has extra options for E150a, E150b, E150c and E150d. Where these are added, they are usually colours from the same family as the original E number prefix and are related in form and use.
Colours can either come from natural sources, such as E100, which comes from turmeric, or E162, which comes from beetroot, or they can be artificial and manmade. Food colouring are used in a wide range of products – some of which may surprise you. Look out for them mentioned on the labels of products such as fizzy drinks, fruit squash, sweets, desserts, scotch eggs, haddock, jelly, jam, cakes, biscuits and packet soups.
Colours are one of the more controversial E number categories, as there has been some research suggesting some of the artificial colours are responsible for causing hyperactivity in children. Manufacturers have begun to make attempts to reduce their use of certain suspect colourings. However, it currently seems unlikely that the use of any food colourings at all will be eradicated completely.
Complete Reference Guide to Colours
The following offers a complete reference guide to all the colours commonly used in foods and drinks. If you're keen to avoid buying products with E number colours in them, why not print out this list and take it shopping with you?
E100 Curcumin, turmeric
E101 Riboflavin (Vitamin B2)
E101a Riboflavin-5'-Phosphate
E102 Tartrazine
E103 Chrysoine resorcinol
E104 Quinoline yellow
E105 Fast Yellow AB
E106 Riboflavin-5-Sodium Phosphate
E107 Yellow 2G
E110 Sunset Yellow FCF
E111 Orange GGN
E120 Cochineal
E121 Orcein, Orchil
E122 Carmoisine
E123 Amaranth
E124 Ponceau 4R
E125 Ponceau SX, Scarlet GN
E126 Ponceau 6R
E127 Erythrosine
E128 Red 2G
E129 Allura Red AC
E130 Indanthrene blue RS
E131 Patent Blue V
E132 Indigo carmine
E133 Brilliant Blue FCF
E140 Chlorophylls
E141 Copper complexes of chlorophylls and chlorophyllins
E142 Greens S
E143 Fast Green FCF
E150a Plain Caramel
E150b Caustic sulfite caramel
E150c Ammonia caramel
E150d Sulphite ammonia caramel
E151 Black PN
E152 Black 7984
E153 Carbon black
E154 Brown FK
E155 Brown HT
E160a Alpha-carotene, beta-carotene, gamma-carotene and carotene
E160b Annatto
E160c Paprika extract, Capsanthin
E160d Lycopene
E160e Beta-apo-8'-carotenal
E160f Ethyl ester of beta-apo-8'- carotenic acid
E161 Xanthophylls
E161a Flavoxanthin
E161b Lutein
E161c Cryptoxanthin
E161d Rubixanthin
E161e Violaxanthin
E161f Rhodoxanthin
E161g Canthaxanthin
E161h Zeaxanthin
E161i Citranaxanthin
E161j Astaxanthin
E162 Beetroot Red
E163 Anthocyanins
E163a Cyanadin
E163b Delphinidin
E170 Calcium carbonate
E171 Titanium dioxide
E172 Iron oxides and hydroxides
E173 Aluminium
E174 Silver
E175 Gold
E180 Pigment Rubine
E181 Tannin
You might also like...