How Safe are E Numbers?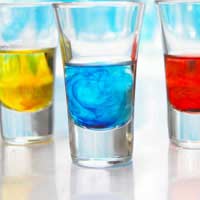 E numbers are widely contained as ingredients in many foods and drinks consumed today but how safe are they?
On the whole, most E numbers are relatively safe and have been subject to testing before they are included in foods and drinks. E numbers first started appearing on food labels in the 1980s, as a result of new legislation, but many of them had been included in products for a long time prior to that. Before then, we just didn't know they were in the foods and drinks we were consuming.
Although they have an 'E' prefix, this doesn't necessarily make all E numbers artificial. On the contrary, some E numbers are totally harmless and are simply given an E to help classify them better. For example, E162 is simply beetroot juice. E300 is vitamin C. E101 is vitamin B2 and E601 is carotene.
Other E numbers are synthesised, but even some of these types can be nature-identical. This means that, even though the additive is manmade, it's been made to have the same chemical composition as a natural substance. Where an additive is completely artificial, it will have a totally different chemical structure from naturally occurring substances.
Testing Process
E numbers do go through various testing processes before being authorised for use in foods. Under the EU legislation requirements, E numbers must be proven and the additives must be used in conjunction with Good Manufacturing Practice. This means that manufacturers can't just add something for no apparent reason – it must serve some kind of purpose and help maintain the quality of food. Tests are then carried out to examine the safety of E numbers and check whether they have any adverse effects in the short and long term.
This testing process varies, but can last for several years. When the results are finally received, they're analysed by independent experts (not experts from the food manufacturer) and then they assess whether or not they're safe to be included in food. They also help identify the Acceptable Daily Intake (ADI) – the safe level for humans to have.
Despite the safety checks and tests, there are occasions when additives are used in food and it's only after a consumer experiences an adverse reaction or side effect that potential problems become clearer. This is very much the case in the debate with children's hyperactivity and additives, as this wasn't an issue that arose in testing, but only became clear after families noticed changes in their children's behaviour after eating or drinking certain foods.
It's not an ideal way to discover problems, especially when someone has to suffer the consequences, but sadly there are occasions when the safety tests fail to highlight all the potential issues with an additive. However, sometimes positive things do come out of these circumstances, especially when manufacturers take note and reduce or eliminate their use of ingredients that may cause problems. It's not something that happens without due investigation, but in the case of food colourings, manufacturers have taken note of concern and are now tending to use natural sources instead of artificial ones.
If you, or anyone you know, do experience a reaction to a food or drink, it's important to see a doctor, try and identify the cause and then, if you can pinpoint it, let the manufactures know. Without people reporting adverse effects, they may never know when something has caused unwanted side effects.
You might also like...