Where are E Numbers Found?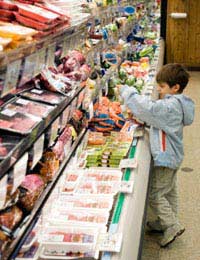 So you're clued up on what all these strange E numbers are, but where are they actually found? In more foods and drinks than you may well imagine.
E numbers are widely used in foods today and crop up in the most surprising products. Manufacturers love them, as the different types of E numbers each play a useful role in the production, manufacture and preservation of foods, helping improve the colour, look, taste, thickness and longevity of many items. In fact, E numbers are used in the large majority of processed foods available on the shelves of supermarkets today.
But even seemingly non-processed foods contain E numbers too. Take tinned fruits or vegetables for example. These count as one of our daily portions of fruit and vegetable each day, but it's amazing to think that E numbers are included in these products – especially when you're buying fruit in its natural juice or potatoes in water. Even something that seems as innocuous as frozen fresh fish or cheese has the odd E number included in it.
Of course, it's good to keep in mind that not all E numbers are artificial – some are obtained from natural sources – so their presence in foods may not be quite as strange as it may seem at first.
Here are just a few examples of some commonly used E numbers and the foods you'll find them in.
E330 – Citric Acid
Citric acid occurs naturally in citrus juice, such as lemon, although it's often prepared commercially for use as an ingredient in foods and drinks. It's used to stabilise the acidity of products and help the effectiveness of antioxidants. It can be found in all sorts of products, including:
Biscuits
Tinned fruits
Tinned sauces
Packet cake mix
Jams
Packet soup mix
Frozen fish, such as herring and shrimp
Cheese
Ice cream
Wine
Cider
Potato waffles (frozen)
Processed cheese
Cheese
Cottage cheese
Tinned vegetables
E466 – Carboxymethylcellulose
This E number plays an important role in products as a thickener and stabiliser. It crops up in a huge range of widely available products, many of which may come as a surprise. For example, it may be found in:
Cake mixes
Icing
Meringue
Packet cheesecake mix
Tinned soups
Mousse
Ice cream
Milkshake
Frozen chips
Low-calorie squash drinks
Processed cheese
Cottage cheese
Fruit pie fillings
Tomato sauce
E522 – Calcium Silicate
This is a naturally occurring mineral, but it's also produced synthetically for use commercially. Its main role is as an anti-caking agent, but it's also used for coating some products. It's found in foods such as:
Icing sugar
Chewing gum
Rice (in its coating capacity)
Sweets
Salt
Onion and garlic salt
E903 – Carnauba Wax
This yellow to brown wax comes from the leaves of a Brazilian wax palm. It's used as a glazing and polishing agent to improve the appearance of products such as:
Chocolate
Sugar confectionary
E904 – Shellac
This E number comes from the resin produced by the Lac insect. The insect is related to mealy bugs and scale insects and comes from India. It's used in products such as:
Sweets
Fizzy drinks, particularly orangeade
Cake decorations
When you're next out shopping, take a moment to look carefully at the ingredients labels and see if you spot any E numbers in foods where you didn't think they'd occur.
You might also like...
It is also be detailed that product are vegetarian or non.if there is list to be mailed
ARVIND
- 3-Jun-15 @ 12:23 PM