Are Sports Drinks Good for You?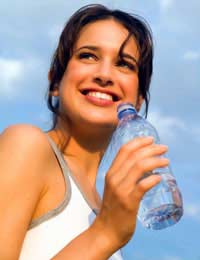 You only have to look at a top sporting event on television to see the vast number of competitors who will come off the playing field at the end of a competition being handed one of a range of sports drinks which are on offer. And, it is certainly true that many of them can lay claim to be beneficial in a number of ways. However, we're all aware that most of these drinks can be bought by people of any age and are widely available in most supermarkets. In fact, many of them are marketed to the masses as such, much in the same way as other soft or fizzy drinks. Therefore, it begs the questions – how are they beneficial and do they benefit everybody?
Helping With Hydration
As a sportsperson, you're going to be expending a lot of energy and are likely to be perspiring a lot. Therefore, you need to replenish the fluid you lose through sweating to avoid dehydration which can affect preparation, performance and recovery if you play sports. Whilst water hydrates you better than any other fluid both prior to and during sports, to many athletes it can start to taste rather bland after a while. Therefore, most people will stop drinking water before they're actually fully re-hydrated. For example, when you take into account that, for every 15 minutes or so of exercise, you should be drinking between 4 and 6 ounces of water, you can see why top athletes prefer sports drinks over water. Therefore, sports drinks with their sweet taste means that they don't quench your thirst as quickly as water meaning that you'll drink more, hence ensuring that you are fully re-hydrated.
In addition, because many of these sports drinks, including well known brands such as Gatorade, contain carbohydrates and electrolytes, research has shown that they help to keep fatigue at bay for longer and can help boost an athlete's speed and mental alertness. Many sports drinks also contain sodium and it's vital to replace that when you sweat.
Therefore, it's clear that sports drinks like Gatorade or any other form of isotonic or hypertonic drink which are high in energy do have their place in sports. So, you might wonder where the problem is.
High Calorific Content
One of the main problems with sports drinks lies in the way they're marketed. Firstly, sports drinks often have a fairly high calorific content which might be perfectly acceptable for a sportsperson who needs to replace energy after strenuous competition or a workout. But they're rather useless if you're a couch potato who simply drinks them for pleasure yet you don't get a lot of exercise as they'll make you put on weight unless you're burning those calories off. In that situation, you're far better off sticking to water or pure fruit juice.
Colourants
We're all aware how much bright colouring can attract us to a particular product in the shops. Let's face it, when it comes to children in particular, ask yourself are they likely to choose a drink which resembles water or one that is orange, yellow or bright green in colour? Companies who make these drinks know this so they'll use a variety of artificial colourants to make their drinks more appealing - not only to athletes but to children too. That poses a number of problems. For example, if your child isn't active enough and gets hooked on these kinds of drinks, they'll inevitably put on weight. Certain additives have also been linked to causing behavioural problems such as hyperactivity and attention deficit disorder. Then, there's also the damage that too much sugar can do to children, especially with regard to their teeth.
Therefore, whilst nobody is saying that sports drinks do not have their place, a lot of care and attention should be given as to how you choose to re-hydrate your body whether you're an athlete or not. You can now buy sports drinks which do not contain additives and there are also plenty of healthier alternatives within the soft drinks market if you simply want to quench your thirst.
You might also like...