E600 - E699 Flavour Enhancers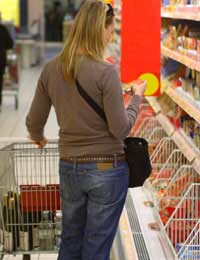 The group of additives prefixed with numbers from E600 to E699 are known as flavour enhancers. Here we look at what they are, why they're included in foods and why one in particular has a tendency to be controversial.
Flavour enhancers play an important role in foods and drinks. Rather than adding an artificial flavour, they bring out – or enhance – the existing flavour of products without adding a new taste or flavour of their own. Like other E numbers, flavour enhancers can come from both natural and synthetic, or manmade, sources.
Flavour enhancers are used in a wide variety of foods, both sweet and savoury. For example, they can be found in soups, packet soups, pork pies, sausages, pre-cooked dried rice, sauces, gravy granules, crisps, snack foods, bread and cakes. Although it's not strictly classed as a flavour enhancer, one of the world's best known enhancers that is used widely is the humble grain of salt.
E621 – Monosodium Glutamate (MSG)
One flavour enhancer in particular, namely E621 or Monosodium glutamate (MSG) has become a bit controversial. The chemical was developed back in 1908 from a type of seaweed called laminaria japonica. These days, however, it's normally prepared from sugar beet pulp.
Although it is used widely in the UK and in other parts of the world and works effectively as a flavour enhancer, it also carries with it some side-effects. The side-effects have gained the title of, "Chinese Restaurant Syndrome," as MSG has been used a lot in Chinese food in the past. Some of the symptoms include palpitations, dizziness, headaches, muscle pain, nausea, migraine-like headaches, pains in the neck and arms.
Various studies into MSG have been carried out over the years. Not everybody is affected by monosodium glutamate, but research suggests that some people may be extra sensitive to it and have an intolerance of it, which produces all the unwanted symptoms. However, the conclusion reached by experts is that it's generally safe for most of the population.
MSG is used in varying quantities in products, but if you are keen to avoid it or know you have an intolerance of it, it is relatively easy to avoid consuming any of the affected products.
Complete Reference Guide to Flavour Enhancers
The following offers a complete reference guide to all the flavour enhancers in the E600 to E699 category. Although there currently aren't as many flavour enhancers as there are other E numbers, it's worth bearing in mind that natural products such as salt and pepper also work in the same way, but aren't assigned an E number.
If you're keen to avoid foods and drinks with certain E number flavour enhancers in them, or want to check out what a certain number is when looking at packaging, then this list can easily be printed out so you can take it shopping with you. Remember, not all E numbers are listed as such on ingredient labels – sometimes it will just feature the long chemical name rather than the number.
E620 - Glutamic acid
E621 - Monosodium glutamate
E622 - Monopotassium glutamate
E623 - Calcium glutamate
E624 - Ammonium glutamate
E625 - Magnesium glutamate
E626 - Guanylic acid
E627 - Sodium guanylate
E628 - Di-potassium guanylate
E629 - Calcium guanylate
E630 - Inosinic acid
E631 - Sodium inosinate
E632 - Di-potassium inosinate
E633 - Calcium inosinate
E634 - Calcium ribonucleotides
E635 - Di-sodium ribonucleotides
E636 – Maltol
E637 – Ethylmaltol
E640 - Glycine and sodium glycinate
You might also like...
I have an MSG sensitivity..can I ask if all E numbers or additives with glutamate in their name contain MSG
Chris
- 22-May-18 @ 4:21 PM