Avoiding Additives and E Numbers When Pregnant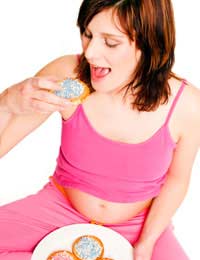 Every woman wants to give their baby the best start in life and it's good when diet and nutrition are top of their concerns. With some worries about certain additives and E numbers, are they best avoided when you're pregnant?
Diet and health are important concerns during pregnancy and it's highly beneficial for pregnant women to eat carefully and ensure they obtain a healthy, nutritious and well-balanced diet. Whilst there are a number of food types which women are advised to avoid completely during pregnancy, the issues of avoiding additives and E numbers isn't quite so clear cut.
So many foods and drinks contain additives, E numbers and sweeteners these days, which help products look good and last longer. All additives and E numbers do undergo lengthy testing before they're let loose in ingredients lists and on members of the public, but some problems do still occur. Some colours, for example, have been highlighted as causing hyperactivity in children and some people are found to be sensitive to certain E numbers and additives.
In general, the advice is that most additives and E numbers are safe to be consumed during pregnancy. However, if the issue of additives, E numbers and artificial sweeteners really concerns you, and you want to give your baby the best – and most natural – start in life, then it's fine to avoid them. If you fall into this category and want to have an extra safe pregnancy, then there are certain numbers worth moving to the top of your avoidance list.
Aspartame Or E951
Artificial sweeteners are included as an ingredient in many ready meals, drinks and snacks, often those aimed at dieters, diabetics and followers of low calorie diets. One artificial sweetener is aspartame, E951, which is 200 times sweeter than sugar or sucrose.
There have been some concerns about the use of artificial sweeteners and aspartame in particular. The biggest issue is that aspartame should be avoided completely by people who have the inherited disorder PKU, or phenylketonuria. People with PKU are unable to handle or breakdown phenylalanine, which is an amino acid that's found in aspartame. If someone with PKU had E951 or aspartame whilst pregnant, then it could cause harm to their unborn baby. This also applies to anyone who has the condition hyperphenylalanine too.
Artificial Colours
Artificial colours are widely used in food and drink products, often to make them look more appealing. But certain colours in particular have been shown to have a negative effect on children, causing hyperactivity and behaviour issues. There's little hard evidence available linking them to problems during pregnancy, but with the known factors, it's worth avoiding them if you're concerned.
The key E number colours to avoid are:
E102 – tartrazine.
E104 – quinoline yellow.
E110 – sunset yellow.
E122 – carmoisine.
E125 – ponceau 4R.
E129 – allura red.
E211 – sodium benzoate.
Flavour Enhancers
As well as adding colours to foods to help them look more appealing, many manufacturers also add flavour enhancers, to supposedly make products taste better. One flavour enhancer that is known to cause problems for some people, especially those sensitive to it, is E621, or monosodium glutamate (MSG).
E621 has a controversial background and is known to cause side-effects in some people. These include side-effects such as dizziness, headaches, muscle pain, nausea, palpitations and pain in the neck and arms. None of these are pleasant and, if MSG is a worry to you, then perhaps it would be best to avoid consuming it during pregnancy.
You might also like...
My son has recently been prescribedan epilepsy medicine (epilim syrup). I am horrified at the colour of this mmedicine. It contains e124 - ponceau 4b, a bright red dye suspected to cause hyperactivity in some children. How can the manufacturers justify this unnecessary additive in a medicine children have to take daily, long term. Yes, there are tablet forms of epilim but until my childs epilepsy is under control we cannot consider changing. Then there is the cherry flavouring in it also. Is it worth contacting the manufacturer to call for a change? Id be grateful for any advice, thank you
Vwmum
- 2-Jan-16 @ 7:55 PM