Children's Food That's Free from E Numbers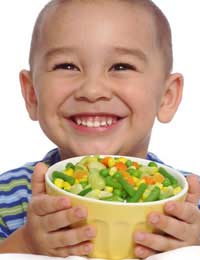 If you're keen for your children to have as natural a diet as possible, then here's a look at how you can ensure the food that ends up on their plate is free from E numbers.
With all the worries about the effects of certain E numbers on health and behaviour, especially in the case of children, it's no wonder that parents are keen to protect their children from the potential effects of E numbers. The good news is that, if you're keen to avoid E numbers, it certainly is possible – although you may well have to become more ingredient list savvy.
E numbers and additives are included in a vast array of food and drink products these days, especially an abundance of ready meals and processed foods. If you're buying these types of products for your children, then you'll need to spend extra time shopping, in order to spot the E number candidates and weedle out the products you don't want to buy. This can be a very time consuming process though, so it's better to get clued up, if you can, as to which manufacturers are aware of E number issues and don't use them so widely in children's food products.
For example, since the concerns about a group of colours were raised a few years ago, especially in relation to their effect on children's health, some manufacturers have begun to remove them from use in their products. In addition, some supermarkets have begun to remove certain dyes and colours from their own range products, so it's well worth double checking to see if the products you're interested in do or don't contain E numbers.
Buying From Health Food Stores
It's easy to assume that if you buy children's food from health stores instead of supermarkets then it will automatically be healthier, more nutritious and contain no E numbers. Whilst it is the case for some products, it's sadly not always the case. So if you're thinking of investigating the shelves of your local health food store, then you will need to continue to check the ingredients lists for E numbers until you become familiar with additive-free brands.
Home Cooked Children's Food
One sure fine way of ensuring the food you feed your children is free from E numbers and unwanted additives is to get back to basics and cook it from scratch yourself (as celebrity chefs such as Jamie Oliver would heartily recommend). Although it may seem like a lot of work, it needn't be – and if you're really organised, you can cook up large quantities and freeze it into smaller portions for those days when you're really rushed.
All your children's favourite foods can be recreated using additive free ingredients, from burgers, curry and chicken drumsticks, to lasagne, fish, pies and puddings. Flavour enhancers can be swapped for natural ingredients, such as herbs and spices, which really give a much better flavour to food and you can also ensure that the meat you're using is good quality and hasn't travelled halfway around the world first.
You'll still need to assess the ingredients you're buying and using, to ensure no pesky E numbers have been slipped in, but on the whole home cooking is a far better way to ensure your children get the best and most natural food they deserve.
You might also like...
I Am looking for sweets that do not contain any E numbers and would appreciate any help. Kind regards Debra Rooney
Deb
- 21-Oct-20 @ 10:00 AM
My newphew is allergic to e numbers and would like foods like shepherds pie etc and how to make them
Daffers
- 8-Feb-19 @ 3:34 PM
Very useful information that makes healthy
pannu
- 15-Aug-15 @ 6:42 AM