Phosphorous in Fast Food and When to Avoid It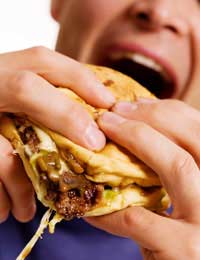 Recent research has revealed that some fast food products contains high levels of phosphorous additives, which can be dangerous for some people to consume. Find out more about the research, why phosphorous can be harmful and when to avoid it.
What is Phosphorous?
Phosphorous is a mineral that occurs naturally in some foods, but it's now frequently included as an additive in an even wider range of food products. It's added to foods as a form of flavour enhancer and to help extend the shelf life of products and can be found in items such as meat, baked foods, cheese, fast food, processed food and even drinks.
Why is Phosphorous Harmful?
Healthy kidneys are able to properly clean out and remove excess phosphorous from the body, but phosphorous is particularly harmful for anyone suffering from kidney disease, as the kidneys are unable to properly get rid of it. When the kidneys are experiencing problems and starting to fail, the levels of phosphorous in the body increases, which can cause addition health problems such as damage to the heart and thinning in the bones.
Kidney patients are already advised to avoid foods that are naturally high in phosphorous, such as some nuts, wholegrains, meat and cheese. However, now that phosphorous salt is used as an additive in even more foods, it's more difficult to avoid it completely – especially as it's often hard to know whether or not it's been added to products.
Research into Phosphorous
Recent research into the effects of added phosphorous in foods was carried out by a team of experts from the Case Western Reserve University in Cleveland, Ohio and the MetroHealth Medical Centre in Ohio. Together they studied a group of 279 people who have kidney disease and high blood phosphorous levels.
One hundred and forty five of the people were given details of foods which commonly contain phosphorous additives and were advised to carefully check ingredient levels when buying food and fast foods, with the aim of avoiding the ones with added phosphorous. The remaining 134 people were the control group and received standard care and no specific information about avoiding fast foods.
The researchers found that after three months, the levels of phosphorous in the kidney patients who'd been given the specialist information decreased by two and a half times more than those in the control group. Overall, knowing more about phosphorous and reducing their consumption helped the patients to remain healthier for longer.
When to Avoid Phosphorous
Anyone suffering from kidney disease, particularly advanced kidney disease, should definitely be avoiding phosphorous, especially in fast foods. That's because high blood levels of phosphorous can cause a variety of serious problems, such as bone disease, heart disease and even death.
However, anyone who is health conscious and wanting to consume a diet with minimum E numbers and additives may want to avoid foods containing extra phosphorous. It's often hard to know when phosphorous is being used as an additive, particularly as it goes under several different names. If you're trying to avoid it, the main ingredients to look out for are phosphoric acid, sodium aluminium phosphate, pyrophosphate and polyphosphates.
One of the current problems is that it's not always necessary for food manufacturers to list phosphorous on food labels, so there's no way of knowing whether it's in certain foods or who much of it is included.
As a result of the recent research into phosphorous, the investigators are advising that more information should be included on food packaging and ingredient labels regarding any phosphorous that is used as an additive in foods. As well as helping people with kidney disease, they feel it would be beneficial to the general public as a whole to be aware of what's going in the food they eat.
You might also like...