Other E Numbers and Their Role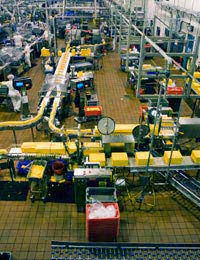 There's a vast array of E numbers used today in food manufacturing and production and many of them have weird and wonderful sounding names. Here we take a look at some of the other E numbers that exist and explore their specific role in foods and drinks.
Emulsifiers
The E numbers described as having an emulsifying role are usually assigned a number between E400 and E499. Emulsifiers are used to mix together ingredients in a product that would otherwise fail to combine properly together. For example, they may be ingredients that are needed to produce the end product, but that would naturally want to separate out if mixed together manually. One example of this is oil and water, which don't combine well as the oil instead wants to gather on the top of the water rather than being incorporated into it.
Emulsifiers are used to produce all sorts of products. Common examples include ice cream and mayonnaise. Like other E numbers, the emulsifiers commonly used in food manufacturing come from both natural and synthetic chemical sources. The synthetic forms have been developed so they have a similar structure and play a similar role to their more natural counterparts.
Examples of emulsifiers include E322 (lecithin), E471 (mono- and di-glycerides of fatty acids) and E472 (Esters of mono- and diglycerides).
Thickeners
Thickeners are specially designed ingredients that are used to thicken up products. They're needed where products would otherwise be too watery or have a poor consistency and help by bulking things up and improving the overall look and taste of foods.
It's surprising to find out just how many foods we take for granted do need thickeners in them. A lot of veggie burgers, for example, often contain thickeners to bind the ingredients together and mass produced jam is commonly thickened with pectin (E440) to help all its contents stay together well.
Like emulsifiers, most of the thickening E numbers are assigned numbers in the E400 to E499 range.
Stabilisers
Stabilisers are often used in conjunction with thickeners as they help ensure the ingredients being held together by the emulsifiers stay that way and don't separate again. They're used a lot in low-fat dairy products, such as low-fat margarine or spreads, but are also found as an ingredient in a wide variety of both sweet and savoury foods.
Gelling Agents
Gelling agents are the other type of E number that are commonly found scattered around the E400 to E499 group of additives. They play a key role in helping food ingredients gel, stick or combine well together.
Gelling agents come from both natural and chemical or synthetic sources. One example of a natural source is agar (E406) which is sourced from seaweed. As well as being a good gelling agent, it's also often used as both a thickener and stabiliser too. Other natural gelling agents are locust bean gum (E410), which comes from the seeds of the Carob tree, carrageenan (E407), which is obtained from red seaweed and pectin (E440), which comes from citrus fruits or apples.
All of these types of E numbers – emulsifiers, thickeners, stabilisers and gelling agents – play an important role in food in their own right. But they're also a good example of how various different types of ingredients work effectively together to enhance each of their food roles.
You might also like...