Energy Drink Ingredients Given all Clear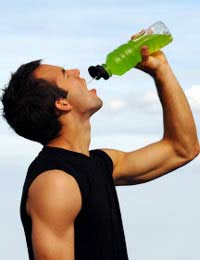 Energy drinks are designed to give consumers an energy boost in a quick and easy to access format. In the past there have been some concerns over the safety of some of the ingredients, but new research has given them the all clear. Here we explore what the concerns were and why they've been declared to be safe.
Energy drinks are favoured by many people. They're useful for those engaging in sporting activities to consume, as they can give a quick fix of energy after a workout or training session, but they're also enjoyed by people who are feeling tired, have had a long night or are hungover, and need to feel brighter and better.
What Were the Concerns With Energy Drink Ingredients?
Despite the seemingly positive benefits of energy drinks, there were however some concerns over their safety. Energy drinks contain ingredients such as caffeine, taurine and d-glucuronolactone and some people were worried that there hasn't been enough research into the effects that these ingredients can have on humans. Animal studies involving taurine, for example, found that it could produce strange behaviour, like anxiety and irritability.
In Sweden, there were three deaths that occurred after people had been drinking energy drinks (although it was never proved that the energy drinks were the cause of their deaths) and there were worries that health problems could occur in people who drank large quantities of energy drinks, in conjunction with alcohol and exercise.
In 2003, the EU's former Scientific Committee on Food raised concerns that taurine may harm the brain and d-glucuronolactone may cause damage to the kidneys.
What Are Taurine and D-Glucuronolactone?
Taurine and d-glucuronolactone are two types of food ingredients that are used in high levels in some energy drinks. Taurine is found in bile and the lower intestines (of animals and humans) and was originally discovered in 1827 in ox bile by two German scientists. The type of taurine found in energy drinks is synthetically produced.
D-glucuronolactone is a naturally occurring compound that is produced from the metabolism of glucose. The two ingredients are used in energy drinks because taurine is said to boost energy and d-glucuronolactone may fight fatigue, improve the retention of memory and boost a person's sense of well-being.
What Have Researchers Found?
As a result of the EU's concerns in 2003, the European Food Safety Authority's (EFSA) Panel on Food Additives and Nutrient Sources added to Food (ANS) carried out a study involving taurine and d-glucuronolactone to discover if any health risks were associated with their consumption in energy drinks.
The research looked solely at the safety of the two ingredients, not at energy drinks themselves, and examined new toxicological figures and data. The report found that the two ingredients appear to be safe for both regular and high level consumers of energy drinks (defined as being those that drink an average of 125ml or 350ml per day).
They noted that the previous reports about deaths associated with energy drinks were hard to quantify, as often alcohol or drugs had been consumed too. Some of the negative effects reported were likely to have been linked to a high consumption of caffeine, also found in energy drinks as well as other foods and drinks, rather than as a result of taurine and d-glucuronolactone.
Finally, they also decided that it was unlikely that d-glucuronolactone has any side-effects through interaction with taurine, caffeine, drinking alcohol or exercising.
For consumers of energy drinks, this is all good news and useful to know that there are unlikely to be any side-effects in consuming products containing these ingredients. Energy drink manufacturers are likely to be pleased too, as it means their ingredients can stay put.
You might also like...
Now I understand why this generation ages 18-35 acts likes they do. Taurine AKA bile from humans and animals, is supposed to be excreted not ingested. Long-term side effects can't be gaged until all the data is studied for at least 10 years. Just because they've proven short-term there is no problems doesn't mean it might not come full circle and bite them in the butt later. No one knew the harmful side effects of acetamenaphine either until a generation of research proved it damages the liver. Taurine may be ok now but what will the years to come reveal especially when they're drinking 3-6 a day?