Antioxidants and Their Role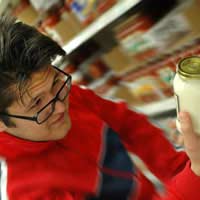 One group of E numbers commonly found in food and drinks are called antioxidants. But what exactly are they and what is their role?
Antioxidants work in a similar way to preservatives as they help extend the shelf life and use by date of food, as well as improve their taste and look. When the fats, oils and vitamins in certain foods combine with oxygen in the air they naturally become rancid, produce unpleasant smells, taste horrible and go off. The antioxidants are included as essential ingredients to help prevent this happening.
Antioxidants also help prevent what's called enzyme browning, which can cause fruits, vegetables and fruit juices to become discoloured. Although they won't fully prevent enzyme browning from occurring for good, they do significantly reduce and slow down this process.
This chemical process of food becoming rancid is called oxidation and it's mostly caused by exposure to oxygen (air), heat or light. During the food production process, antioxidants are mixed up well with fat or oil, and this helps delay the onset of oxidation.
Antioxidants can be categorised into two main types – they can be naturally occurring or manmade.
Naturally Occurring Antioxidants
Naturally occurring E number antioxidants include vitamin C, which is otherwise known as ascorbic acid, and is found listed on labels as E300. Vitamin C is used to protect and extend the life of products such as soft drinks, condensed milk and jams.
Antioxidants called tocopherols are members of the vitamin E family and are categorised as E306 – E309. The tocopherols are found naturally in products such as nuts, soya, sunflower seeds and maize and they're used in products to help preserve them. They're most commonly found in products such as vegetable oils, cocoa and margarine.
As naturally occurring antioxidants are an essential element of food production, they're in huge demand. To help cope with the demand, they have also been artificially created too. This is what's called nature identical substances. They are identical in structure to the original substances, as their molecular structure has been copied, and are used in the same way.
Manmade Antioxidants
Antioxidants can be completely manmade too. One type of manmade antioxidants are the gallates, which form E310 – E312. The gallates are used more frequently in vegetable oils and margarines and help preserve the taste of the products and help stop them from going rancid. The gallates sometimes appear on labels as propyl gallate (E310), octyl gallate (E311) and dodecyl gallate (E312).
Two other manmade antioxidants that are similar to the gallates are what's known as BHT and BHA. In their long form BHT stands for butylated hydroxytoluene (E321) and BHA stands for butylated hydroxyanisole (E320).
Antioxidant Reference Guide
As a useful reference guide, here is a list of some antioxidants that occur frequently in foods and drinks.
E300 – ascorbic acid
E301 – sodium L-ascorbate
E302 – calcium L-ascorbate
E304 – 6-0-palmitoyl-L-ascorbic acid
E306 – tocopherols
E307 – synthetic alpha-tocopherol
E308 – synthetic gamma-tocopherol
E309 – synthetic deltat-tocopherol
E310 – propyl gallate
E311 – octyl gallate
E312 – dodecyl gallate
E322 – lecithins
E325 – sodium lactate
E326 – potassium lactate
E327 – calcium lactate
E330 – citric acid
You might also like...