Avoiding E Numbers Through Home Cooking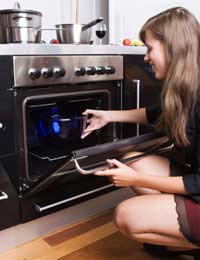 If you're keen to avoid consuming too many E numbers, then one perfect way of doing so is by home cooking.
Ready meals, pre-packaged and processed food are renowned for containing an array of E numbers, often disguised on ingredients labels by manufacturers using the long scientific names instead of the short E number.
For the avid E number avoider, checking the labels of foods and drinks before purchasing is a good way of avoiding E numbers. But to save the time and hassle, and give your health a great boost at the same time, the best bet is to prepare and cook food at home from scratch.
Buying E Number-free Ingredients
The best way of avoiding E numbers is to not buy or eat the foods and drinks they're contained in. It sounds simple really, doesn't it? This back to basics approach is all the rage right now, with many top chefs extolling the benefits of using fresh produce and ingredients.
Home cooking is very fulfilling to do and, when you get organised and into it, shouldn't be a lengthy chore.
When you're planning on cooking meals from scratch, it will help considerably if you've thought through the bare bones of your weekly menu in advance, so you can purchase all the necessary ingredients and have everything at hand. You don't need to worry about planning your menu to military precision and can of course change your mind on the day if you fancy something different. But it is useful to get stocked up on store cupboard basics and have a good supply of fresh produce at hand.
Some of the ingredients you may want to stock up on include:
Fresh fruit and vegetables (some of which you can also freeze if you don't want to use them all at once).
Rice.
Pasta.
Tins of chopped tomatoes.
Herbs – fresh or dried.
Flour for baking.
Sugar.
Free range eggs.
Beans or pulses.
Fish.
Organic or free range meats (whilst they generally won't have E numbers in them, choosing organic or free range British products is better for the health conscious consumer, as animals will have been treated better).
What To Cook?
Cooking without E numbers can be as broad or narrow as you wish. The obvious choice is to home cook all your main meals, whether it be meat, fish or vegetarian meals. An added advantage of cooking your own food is that it's up to you to choose the portion size.
If you have a freezer, then it can be much more cost effective to cook meals in bulk and then freeze the extra portions, so you always have something on hand for emergencies and won't need to dash to the takeaway or buy a ready meal!
If you get really into the idea, then you could also have a go at bread making too. A wide range of bread makers are available that make the art of bread making dead simple – and quick too. The ingredients are all easily available and you can make your bread as wholesome as you like.
If you or your children often eat yogurt, then it's also possible to make yogurt. Yogurt makers are inexpensive and allow you to make yogurt that is free from flavourings, additives and E numbers. Natural yogurt is tasty on its own, but can be sweetened by adding a teaspoon of honey or a selection of fruit to it.
When you're avoiding E numbers, you don't have to miss out on foods such as cakes or biscuits. Although shop bought products are very likely to contain synthetic flavourings, additives or E numbers, by making your own cakes and biscuits you can avoid the unnatural ingredients and be sure of exactly what you're eating.
There are many advantages of cooking from scratch using natural ingredients, so why not have a go?
You might also like...
Well done for such an informative article. It is this type of information that I was looking for and Thank God I have found it. I tell you I am really confused to what to eat since all types of food not just the packed one's but even fresh produce, meat and fish are messed up!Somethingmust be done, more laws and more watchdogs. We are all at stake....to a list of horrible diseases ... victimsof the ruthless manufacturer's pockets.