Avoiding E Numbers When Eating Out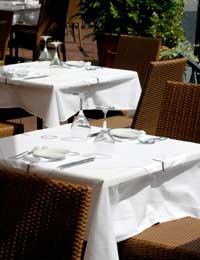 So you're keen to avoid E numbers as much as possible, but what happens when you're eating out and have no control over what goes in your food?
When you're buying food for your family, you can get adept at looking out for details of E numbers and avoiding the ones you don't personally want to consume, or want to expose your children to. But things can get a bit trickier when you're eating out, as it's harder to know what ingredients have been used and where E numbers may have slipped in.
Sometimes, having the occasional exposure to E numbers won't have too much of an impact, but if you or your child has a known sensitivity to a particular E number, or it's of major concern to you, then finding out the facts when eating out is advisable.
Choosing Where to Eat Out
Where possible, it's helpful for the avid E-number avoider to carefully choose where they're going to eat out. A bit of research in advance can help but your mind at rest that the meal you'll be consuming won't be packed to the seams with E numbers. Many restaurants and smaller eateries have an Internet presence, so you can check out their menu and get an idea of their principles. For example, if you see mentions of 'home cooked food', 'organic food,' 'locally sourced produce,' or 'fair trade products,' being used, then there's a good chance that they won't be all that keen on ingredients involving E numbers.
Looking for reviews will also help you suss out somewhere further. For example, there are various restaurant review directories published annually which can give you an idea of the type and quality of food being served, plus you could look for independent reviews on the Internet. If you live close to the restaurant, then you could also pop in and suss out the menu and ask about issues such as E numbers, or perhaps you could ask friends or work colleagues for their opinion on places.
Asking Questions
In today's world, where more and more people are becoming concerned about health and diet issues, it is thankfully more acceptable to ask questions about where the food you're eating comes from and the type of ingredients used. Many people have food allergies or food intolerances, which makes it crucial to know what they're eating, as they could otherwise end up very ill.
Most good restaurants are concerned about the ingredients they use and are more interested in feeding people with more natural produce and are happy to discuss this with you.
If there are particular E numbers you're keen to avoid, you mention them by their scientific name rather than the E number part and ask if they could check that it isn't included in any of the dishes you're interested in. It's best not to barge in and demand to know everything, but rather to handle the situation well and explain that you need to know for health reasons (you don't have to expand on this if you don't feel comfortable doing so). Some of the questions you may want to ask include:
Where do you source your ingredients?
Do you make dishes from scratch or buy in ready made meals?
Do you use locally sourced products?
Could you provide an ingredients list for a certain dish?
Are there any E numbers in your dishes?
If you do experience any problems or reluctance to tell you what's in their food, then perhaps it's a sign that that eatery is best avoided.
You might also like...