E Numbers and Children's Behaviour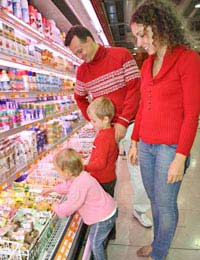 Some of the E numbers used as ingredients in popular foods and drinks have been associated with problematic behaviour in children. But how substantiated are the claims and are particular E numbers to blame?
For many years there have been parents who have insisted that the additives and E numbers added to foods and drinks have caused changes in their children's behaviour. The behaviour described has involved children having tantrums, misbehaving, lacking in concentration and generally becoming more hyperactive. With so many popular kids foods and drinks containing E numbers, the food industry have been quick to dispel fears in the past, claiming that E numbers aren't linked to changes in behaviour.
But slowly and surely research studies have found otherwise. About 20 years ago, researchers discovered a potential risk of allergic reactions, such as asthma and breathing problems, linked with certain additives and other smaller studies began to discover links between E numbers and bad behaviour.
It's interesting – and worrying – to note that there's been a massive increase in the number of children being diagnosed with Attention Deficit Hyperactivity Disorder (ADHD), with at least one in 20 children in England and Wales now thought to be affected to varying degrees. What's more, prescriptions for the drug Ritalin, which is used to treat ADHD, have doubled in the last four years. Clearly something is at play and causing the increase in ADHD, but it's been hard to pinpoint what.
Not surprisingly, parents and some experts believe that E numbers are linked, especially as the rise in ADHD occurred after additives began to be included regularly in foods and drinks.
Recent Discoveries
It's only recently that more substantial evidence has been found that echoes what parents have been saying for years – certain E numbers do increase bad behaviour and hyperactivity in children.
One of the biggest studies undertaken in the UK was carried out at Southampton University and commissioned by the government. The researchers looked at the responses of 153 three-year-olds and 144 nine-year-olds as they ate and drank different foods and drinks containing a range of commonly used additives. They discovered a definite increase in hyperactivity and behaviour changes after foods and drinks with certain additives were consumed.
As a result of this particular study, the UK government have now formerly recognised that some E numbers do have an effect on children and that certain mixtures of food colourings and additives can influence behaviour. In the case of children who already show signs of hyperactivity of ADHD, the government are now recommending that parents don't give their children products containing certain E numbers.
For the sake of children who are affected by behaviour change after consuming E numbers, and their parents who have to deal with it, it's a sad scenario that it's taken so long for the links to become clearly identified. But it's encouraging the future generations of children may be prevented from having to suffer the effects of E numbers, as food manufacturers are now pledging to remove the culprits from their products.
In the meantime, as a parent, the best thing you can do is check product labels for details of E numbers, minimise consumption where possible and provide your child with as healthy, nutritious and wholesome a diet as possible.
You might also like...